!DOCTYPE HTML PUBLIC "-//W3C//DTD HTML 4.0 Transitional//EN">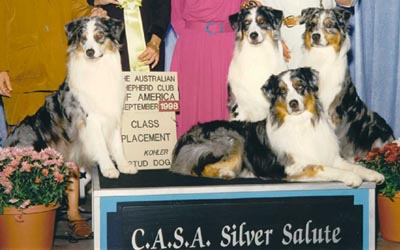 Buster's Stud Dog class (left to right back) AKC, ASCA CH Melody's Top Priority CD "Topper" ASCA, CKC CH. Melody's Master the Moment "Dylan" and ASCA CH. Melody's Block Buster "Barney".

(Click on thumbnails for link )
CH Sunshine's Abracadabra "BUSTER"
HOF CH Peachcreek Razzle Dancer X CH Brightwoods Touch of Class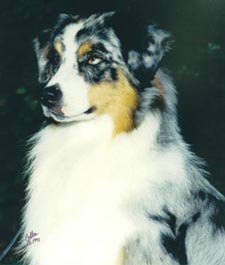 In 1992 Buster was California's top winning blue dog and 7th in the country in ASCA. He added temperament and personality beyond belief to our already easy going lines. He sired six champions at home. Buster died in October of 2000. He is greatly missed, but his lines are part of our new generation of dogs.

CH Ebbtide I Saw the Surprise "Whoopi"
HOF CH My Main Man Of Heatherhill X CH Ebbtide A Bee In Your Bonnet, CD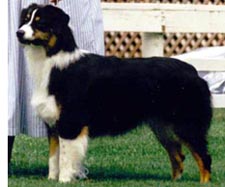 Whoopi was a surprise! Little did we know when we took her home Memorial Day from Ann Atkinson after an ASCA show, that she would become not only the light of our lives, but the mother of some of my most loved and cherished dogs! Regrettably, we lost Whoopi to cancer in February of 2002. Her kids and grand kids live on. We are so happy to have had her! We thank Ann Atkinson for the opportunity to be owned by a truly great Aussie!

AKC/ASCA CH Sunshine's Star Spangled Banner

AKC/ASCA CH Peachcreeks Son of a Gun "Sonny" X AKC,ASCA CH Sunshines Private Moments "Shady"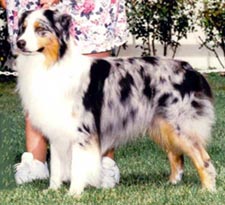 Banner was the First Veteran Dog USASA 2002 He is the biggest smiler the breed has seen. He was always happy! He sired 7 homebred Champions and was Utah's Top Conformation Specials Dog in 1997. He finished his AKC championship just short of 10 years old. Banner died January 8, 2004. We will miss him, but his legacy lives on.

ASCA/CKC CH Melody's Master of the Moment "Dylan"

Ch Sunshine's Abracadabra "Buster" X Ch Bayshores Passport to London "Bubbles"
Dylan was Melody's first bred by Champion. He is Victoires & Chris's Grandfather. He is a definite asset to my breeding program and to the breed. With a wonderful attitude and willing to please always, may God rest his soul !